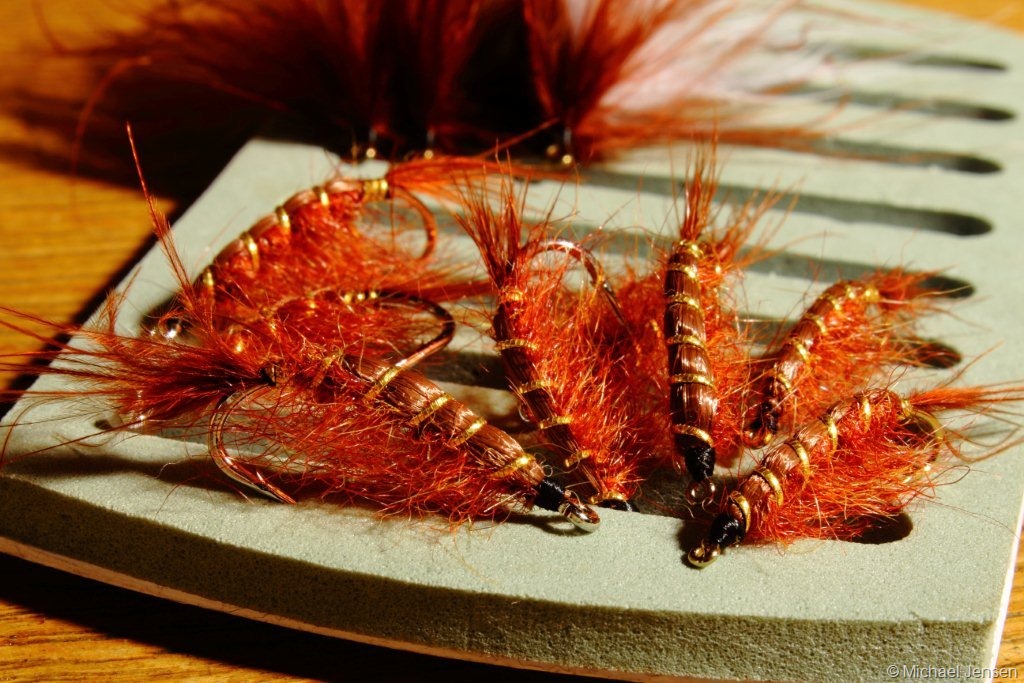 I tend to see myself more as a fly fisherman than a fly tier – but living in Scandinavia…weather can make a mess of your priorities. Dealing with snow, frozen line guides and cold fingers suddenly makes indoor activities look more desirable.
I had a cozy time the other night tying flies with my friend Lasse.
With a wannabe winter storm brewing up outside and a cold rain driving down the windows – well, spring seemed to be light-years away. But the ice was melting on the garden pond outside my windows… and probably on the lakes as well. The rivers ran high and muddy with the remains of winter. So maybe there is light at the end of the tunnel.
Chances are that coastal fishing for sea trout, or sea run browns, will be possible in the coming week. With the fjord unlocking, it might even be damn good fishing. With that comforting thought in my mind, I tied a bunch of Seals Fur Gammarus. It is one of my own scud patterns. It usually works well, when the fish are on a slow metabolism and don't want to run for fast-food. It has a seals fur body and a shellback of raffine. I also made a trio of Jack Garside's wonderful Soft Hackle Streamer. Lasse tied a variety of experimental sand eel (tobis) streamers – using a combination of flash fibers, cream colored wool and golden olive saddle hackles. They looked dangerously fishy.
Well – another night of fly tying and dreaming. It might not be fly fishing, but at least it gets us through the winter – and gives a great opportunity to remember past seasons, big fish and, most important, all the crazy shit that happened chasing them. Good cure for cabin fever and winter depressions.
Share