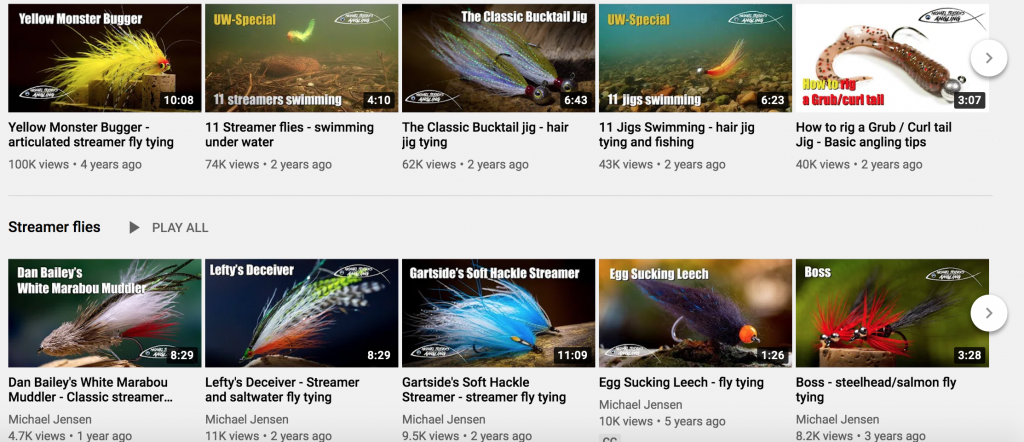 …and 100.000 views on the most viewed video
Well this last month our Michael Jensen's Angling YouTube channel passed an important milestone. We reached the 1 million views mark. And about the same time our most viewed video The Yellow Monster Bugger articulated streamer tying SBS passed 100.000 views.
I think this is as good an occasion as any to revisit just that video. Check it out right here.
And whether you are into fly tying and -fishing, jig tying, predator fishing, slinging crankbaits, likes rigging and fishing softbaits and other jigs or are a total streamer junkie, we got lots of stuff for you. As of today 129 videos with two new releases this Friday – and new stuff coming up every week. And most of the videos are followed up on our blog, often going one step deeper with the subjects.
Thanks a lot for your support
Ulla and I want to thank each and every one of you for supporting this blog and our channel by watching our stuff and giving us valuable and encouraging feedback.
I'm not saying we couldn't have done this without you – but there sure wouldn't be much point in doing it… if you didn't drop by and chime in occasionally ;0)
Thanks a lot guys.
Today's videos
And here are the two new videos. First one on rigging the Carolina Rig. This includes a couple of fishing tips, and some underwater footage.
The second is the our first essential fishing knots video: Today on the Improved Clinch Knot.
Have a nice weekend
Ulla and Michael
You wanna support my blog? Read on!
Affiliate links: Do you want to know more about Affiliate? Read here: https://michaeljensens.com/angling/af…
Support My blog by purchasing things from Amazon through this link (No additional cost for you):https://amzn.to/33uUhXA
You wanna see more of the camera gear and microphones I use for making my YouTube videos? Check out my equipment on this link to my blog: https://michaeljensens.com/angling/film-making-gear/
Share