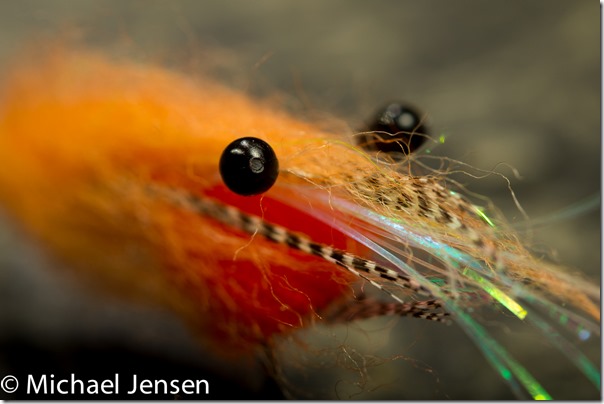 Well I've given my shrimp pattern some minor corrections along the way. Now I found it was time to give it a name, and make a video of the fly tying process.
The name P&S Shrimp means Plain & Simple Shrimp, and here is the fly pattern:
Hook: I tie it on a wide range of hooks: Partridge Saltwater Shrimp and a wide gap sickle style hook and lots of others
Thread: Mostly I use white – you choose the brand
Tail: Natural Sculpin Wool (Dark Roe Orange) suggesting the mouth parts of the shrimp
Eyes: Easy Shrimp Eyes (Black)
Butt: Natural Sculpin Wool (Dark Roe Orange). This is used to spread the hackle
Feelers: strands of Mother of Pearl soft flash (or Crystal flash or similar)
Hackle: Teal or grey mallard… as legs
Body: Woolly Sparkle Dub (2 – 3 sections, depending on the hook length)
You can read more about my thoughts on this pattern in the blog Study of a shrimp.
And you can see the fly tying film on my YouTube channel… right here…
Find more info, fly patterns and tying- and fishing tips on Woolly Sparkle Dub here…
Watch Woolly Sparkle Dub videos here… 
You can buy Woolly Sparkle Dub right here… 
You can buy Natural Sculpin Wool here… 
Share