Gammarus!
They are everywhere in salt- and freshwater – and they are active year round. Most fish have a close relationship to these small critters, and you should as well.
The small crustaceans from the family Gammaridae count more than 200 described species. That's a lot of bugs. Some of these live in moist places under rocks on the shore, but most of the Gammarus live under water. Some species prefer freshwater, other brackish environments and some live in water so saline, that it will kill most other species.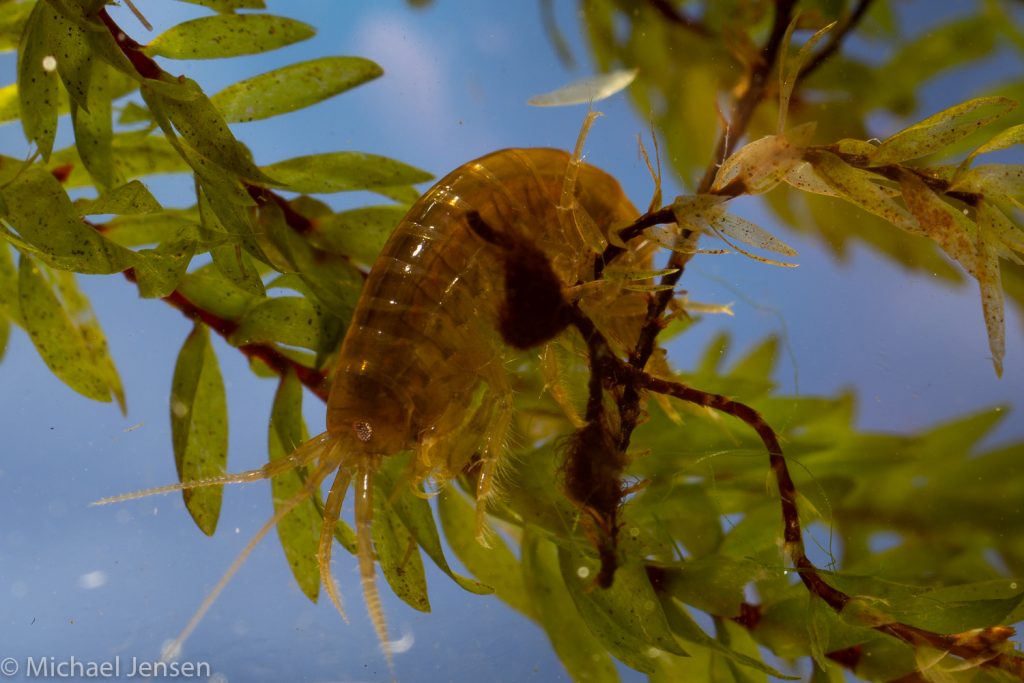 There are several reasons why Gammarus (also known as scuds) are very important to a lot of the fish we chase. The freshwater forms of these bugs typically thrive in cold well-oxygenated waters – and share habitat with all sorts of trout, salmon, grayling, whitefish and other fish. That makes them stable food for these fish all through the season.
And since scuds reproduce like crazy and mature fast, they sure are plentiful – also in saltwater environments. According to a Danish Scientific research a single pair of these crustaceans will in 8 months be responsible for 200.000 offspring.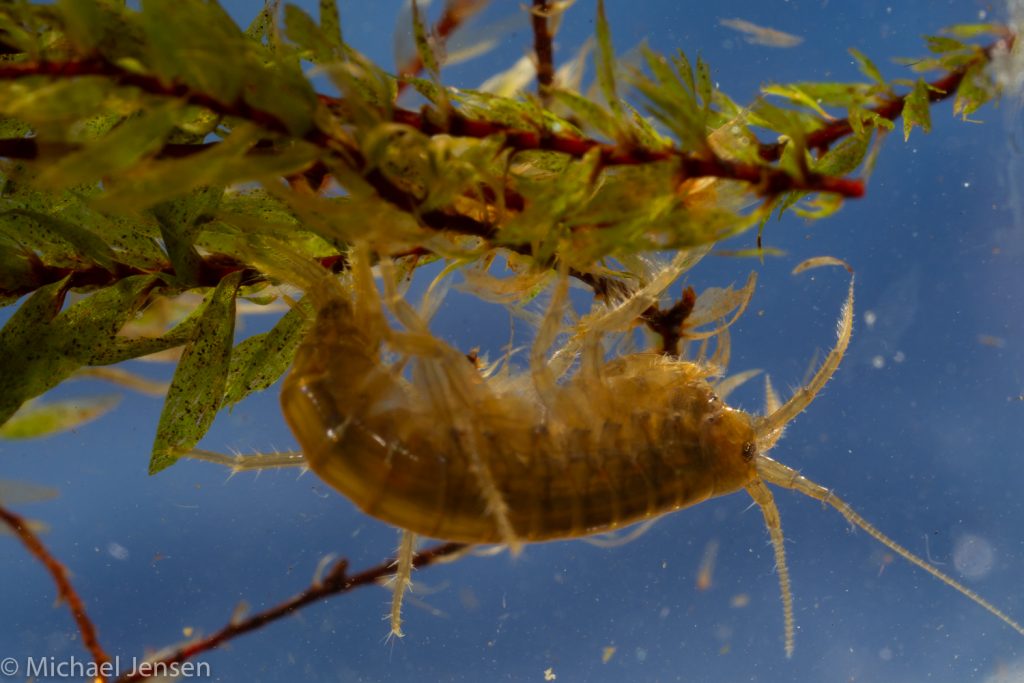 At rest or swimming
Traditionally Gammarus or scud imitations are tied on hooks with some kind of curve. Often a very pronounced C-shape. That makes sense. When you see these crustaceans resting, they are curved – as you can see in the photos. But when swimming, they have a nearly straight back. Still slightly curved, buy nowhere near the shape of a resting scud. Check out the photo of this saltwater gammarus speeding past my camera. Nearly a straight line.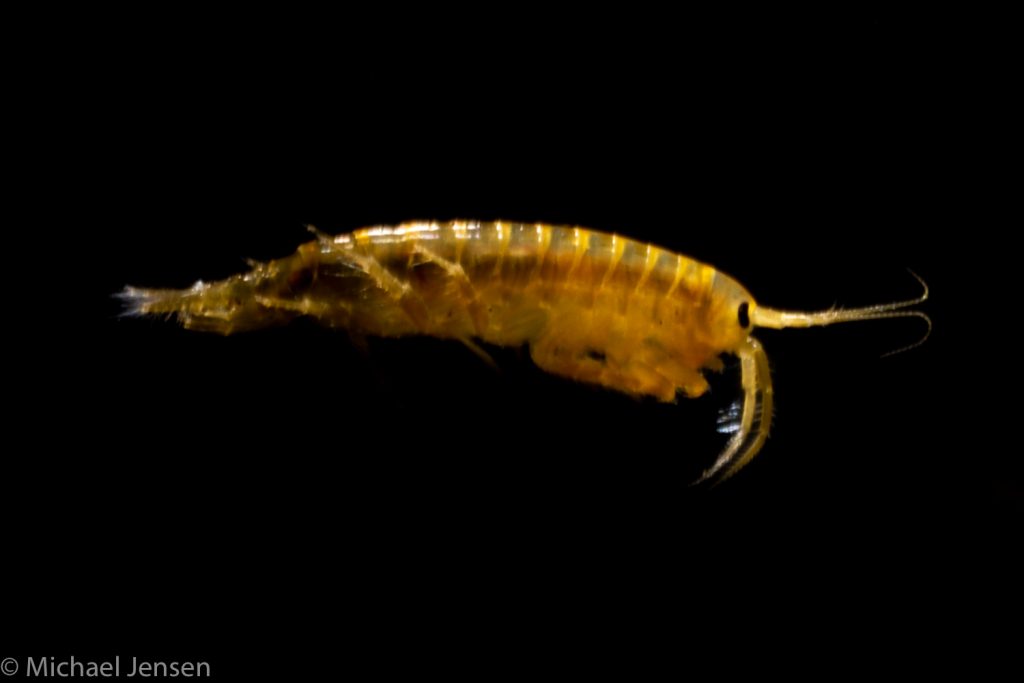 So basically any hook design will do – and I've used the curved design (Ahrex NS172) on many gammarus imitations with great results. In the video of the Olive Brown Scud I tie on a hook with only a slight curve, that better imitates the profile of a fast swimming gammarus.
You can see the tying SBS right here… https://youtu.be/d5AjWk7K1W8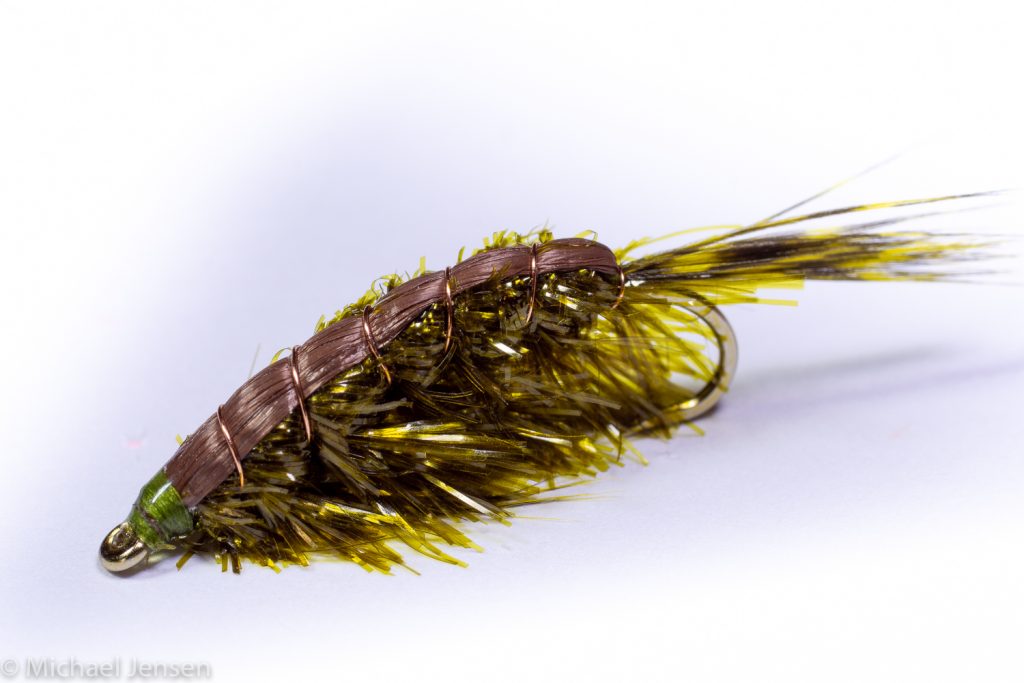 More gammarus blogs:
https://michaeljensens.com/angling/salty-gammarus/
https://michaeljensens.com/angling/fly-tying-and-cabin-fever/
Have a nice weekend :0)
Michael
You wanna support my channel? Read on! Affiliate links: Do you want to know more about Affiliate? Read here: https://michaeljensens.com/angling/af…
Support My Channel by purchasing things from Amazon through this link (No additional cost for you): https://amzn.to/33uUhXA
My Fly Tying Vice: https://amzn.to/2ob3bL0
The camera gear I use for making my videos:
My DSLR Camera
Nikon D7100 camera https://amzn.to/2YgHCFs
My Lenses
Nikon AF telezoom Nikkor 70-300 https://amzn.to/2YdyFNd
Nikon AF Nikkor 28-70 https://amzn.to/2JmwWBf
Sigma Macro 105 1:2,8D https://amzn.to/2YcMHyH
Sigma Macro 50mm https://amzn.to/2YlYCKT
Nikon AF-S Nikkor 16-85 mm 1:3,5-5,6 https://amzn.to/2LJwHmH
All weather/underwater camera
Olympus Tough TG-5 https://amzn.to/2Y99ETo
GoPro Hero8 Black https://amzn.to/2SKBh4r
Tripods and stuff
Manfrotto Tripod https://amzn.to/2LqD266
Gorilla Tripod https://amzn.to/2LuDT5V
Sun Shade Screen Protector https://amzn.to/2l69r5L
Bags and backpacks
Pelican Protector Case 1600 https://amzn.to/2Yeyz8c
Photo Bag https://amzn.to/2PRIDkF
National Geographic Africa Camera Backpack, Brown (NG A5290) https://amzn.to/2mNBmI4
Microphones and recorders
Røde Link Filmmaker Kit https://amzn.to/2LuFokz
Zoom H1 https://amzn.to/2Y8t1vY
Microphone Furry Windshield https://amzn.to/2LEprIK
Gimbal Feiyutech https://amzn.to/2JykA9l
Drone DJI Mavic Air https://amzn.to/2LrsZO5