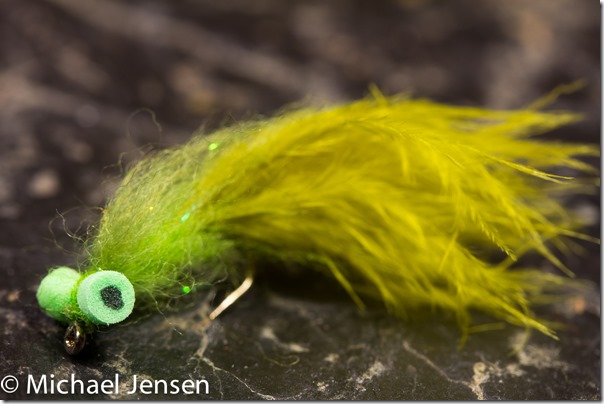 It's green, buoyant… and very much alive. As all Booby flies, this is best fished on a sinking line. The damselfly larva is a very active swimmer and can be found wiggling around in most stillwaters and a lot of rivers all year round. This is an easy tie and a great contribution to any trout fly box: Especially if you chase large rainbow trout.
Damselfly Booby (with affiliate links)
Hook: Standard wet fly hook size # 6 or 8
Thread: White or olive – https://amzn.to/2oaUErD
Tail: Woolly Bugger Marabou (Light Olive) – https://amzn.to/2obiIKP
Rib: Chartreuse Flatbraid – https://amzn.to/2pjfS7d
Body: Woolly Sparkle Dub (Chartreuse Sparkle)
Wingcase: Woolly Sparkle Dub (Damsel in Distress)
Eyes: Foam Booby Eyes (chartreuse or white) – https://amzn.to/2nzBQSW
See the tying steps for Damselfly Booby on
YouTube here…
Read more about damselflies
here….
Buy my e-book Tying and fishing the Booby Fly You can buy the Kindle edition or download a free sample from the book here:
https://amzn.to/2WTesvE
You can buy the iBook here:
Tying and Fishing The Booby Fly – Michael Jensen
Find more info, fly patterns and tying- and fishing tips on 
Woolly Sparkle Dub here…
Watch Woolly Sparkle Dub 
videos here… 
You can buy Woolly Sparkle Dub 
right here… 
You can buy Natural Sculpin Wool 
here… 
The camera gear I use for making my videos (affiliate links – read my affiliate declaimer here…)
My DSLR Camera
Nikon D7100 camera
https://amzn.to/2YgHCFs
My Lenses
Nikon AF telezoom Nikkor 70-300
https://amzn.to/2YdyFNd
Nikon AF Nikkor 28-70
https://amzn.to/2JmwWBf
Sigma Macro 105 1:2,8D
https://amzn.to/2YcMHyH
Sigma Macro 50mm
https://amzn.to/2YlYCKT
Nikon AF-S Nikkor 16-85 mm 1:3,5-5,6
https://amzn.to/2LJwHmH
My all weather/underwater camera
Olympus Tough TG-5
https://amzn.to/2Y99ETo
Tripods and stuff
Manfrotto Tripod
https://amzn.to/2LqD266
Gorilla Tripod
https://amzn.to/2LuDT5V
STSEETOP Sun Shade Screen Protector
https://amzn.to/2l69r5L
Bags and backpacks
Pelican Protector Case 1600
https://amzn.to/2Yeyz8c
Photo Bag
https://amzn.to/2PRIDkF
National Geographic Africa Camera Backpack, Brown (NG A5290)
https://amzn.to/2mNBmI4
Microphones and recorders
Røde Link Filmmaker Kit
https://amzn.to/2LuFokz
Zoom H1
https://amzn.to/2Y8t1vY
Microphone Furry Windshield
https://amzn.to/2LEprIK
Gimbal
Feiyutech
https://amzn.to/2JykA9l
Drone
DJI Mavic Air
https://amzn.to/2LrsZO5