Being a streamer fishing addict, I find myself fishing quite a lot with different kinds of sculpin imitations. Recently I have experimented a bit with a new fly tying material. I wanted something like the sheep fleece material, but finer in structure. Most of the sheep fleece I have in my possession is fairly coarse, and is more useful for large pike streamers – than it is for smaller more imitative flies for trout in fresh- and saltwater.
So I went through a lot of different samples of wool – in yarn as well as on hide, before I found what I was looking for. The material is natural wool, but it is super fine and subtle in the fibers.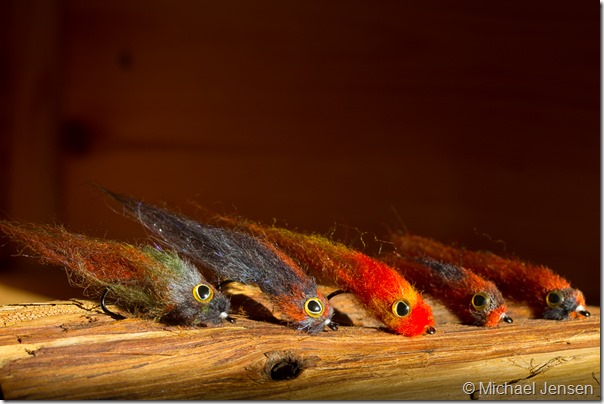 Cut up and mixed to a dubbing blend with a small amount of Ice dub this works a lot like Senyo's Lazer Dub, but (except for the small amount of Ice Dub) it is a 100 percent natural material.
In yarn form it can be used for building up sculpin heads and bodies, and works equally well for wings in baitfish style streamers, leeches, shrimps and other fly types.
And you can tie perfect Glo Bug style egg imitations with this yarn as well.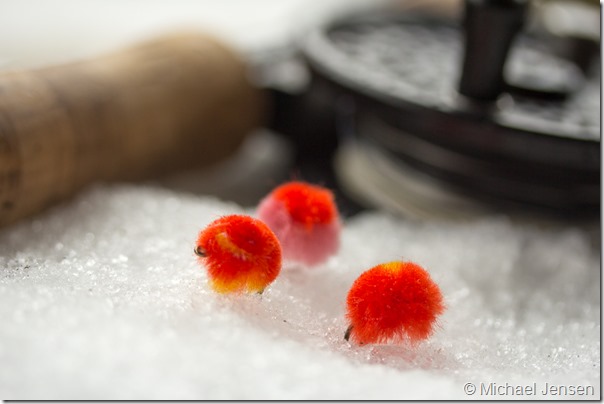 Best thing is it sucks up water, and makes your flies sink.
The material will be available as Natural Sculpin Wool Yarn, and in different forms of dubbing. More info, fly patterns and fly tying videos will appear on this blog in the coming weeks – and the products will be available in our webshop in a variety of colors.
Until then: here are some photos of the first flies tied with the new material. All of the flies in these pictures are made entirely with Natural Sculpin Wool (Except for the bead chain eyes, shrimp eyes and 3D eyes and a pitch of Ice Dub). I really like it… and the fish seems to dig it too :0)
See my tying instruction video on Mic's Woolhead Sculpin here…
Buy Natural Sculpin Wool here…